Hello, all! Welcome to what's become...my monthly entry, because I'm too busy posting at

ladybusiness
and
renay
Happy February. Have a list:
1. I've been tracking my volunteer hours for $dayjob, because they can count them toward...something. I didn't really ask. In January, I had 33 volunteer hours for the OTW. February so far has 69 (hahahaha so far, what). Most of this was working on my handover notes for the new Tag Wrangling co-chairs and Volunteers & Recruiting inductions, plus some proposals. We've been inducting the new staff. There are many awesome folks this year with lots of ideas and I am excited. More specifically:

sanders
as Tag Wrangling Board liaison (SO MANY HEARTS, THIS IS AMAZING!), the induction process getting refined and documentation improving so future inductions grow ever easier, actually being able to attend Tag Wrangling meetings...?
2. Hey, I graduated.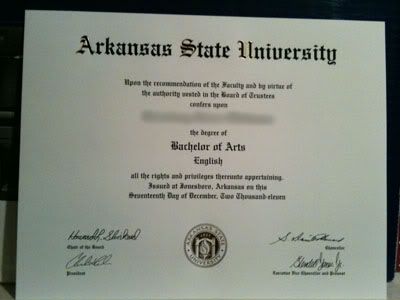 It only took me two months to pick them up (SORRY MOM, HERE YOU GO. Hope this tides you over until you can see the real thing). But I have them and they are
official
. Academia and I are finished. \o/
3. ...I signed up for the Teen Wolf Big Bang? Because I have time for that. /o\ Speaking of Teen Wolf, have a recommendation:
go home, or make a home
. 7,000 words of superb Derek/Stiles. ♥
I am afraid the reason I don't post much is because ultimately my life is not that exciting. I work, I read (last book:
The Scorpio Races
, very excellent!), I bribe people for
Sunshine
fic, and I'm relentlessly mocked by friends about my lack of cable. ;___;
Until March, friends! Have a great song as we part ways: